News
More news available in German.
______________________________________________________________________________
Video about the 17th Klezmer-Festival in Hamburg:
http://www.rabbinavon.com/aktuell/das-17-festival-der-judischen-musik
Greeting from Rabbi Navon to the participants of the Jewish Festival.
10.09.2017
We shouldn't wait for Tomorrow, to be happy Today!
Nine Jewish congregations are sharing our Happiness and Blessing at the 17th
Festival of Jewish Music in Hamburg, here in the Rold-Lieberman-Saal of the NDR,
the former Third Hamburg Israelite Temple. I'm happy to welcome you all here. You
came to inflame the warm feeling of Brotherhood in our hearts. And you sent us with
your music the good message "Am Israel Hai!" – the people of Israel live!.
We have lots of luck and blessings here in Hamburg: We are celebrating "200 years
of Liberal Judaism in Hamburg" and 13 years of the "Liberal Jewish congregation in
Hamburg" this year. We call it the Bat-Mitzwa of the successor of the Israelite Temple
Union after the Shoah. We also remember this year the first liberal chief Rabbi of the
Temple Union, Rabbi Bruno Italiener – 80 years ago.
Our Jewish ancestors would be happy to see them so courageously living their
Jewish identity, closing the gap between Jewish generations before the Shoah and
after the Shoah. I only can repeat the words of Dr. Bruno Italiener, the Rabbi of this
Israelite Temple, this former Jewish liberal house of worship, when he said on the
second day of Rosh HaShana in the dark year 1936:" Two places in the Torah are
identical. In the 2 Book of Moses – as the people of Israel, after they were saved from
awful dangers, see the wonders for the first time, we can read:

מי כמוכה באלים ה' מי כמוכה נאדר בקודש נורא תהילות עשה פלא
"Who among the gods is like you, Lord? Who is like you— majestic in holiness,
awesome in glory, working wonders?" (Exodus 15:11-16) The particularity of the holly
God, in comparison with whom the gods of the pagans are nothing, is the
quintessence of this message.
At the End of Torah the same words "Who is like you!" Moses is saying it again, but
this time not about God, but about his people, about Israel, whose story he
recapitulates:
אשרך ישראל מי כמוך עם נושע בה'
"Blessed are you, Israel! Who is like you, a people saved by the Lord!" (Bereshit
33:29) These are his last words to his people, his legacy, his blessing. Israel is
blessed, "Blessed are you, Israel!" , if he doesn't forget his uniqueness in the world."
(Andreas Brämer, 'Judentum und religiöse Reform: Der Hamburger Israelitische
Tempel 1817 - 1938', pp. 813 – 814).
We direct our hearts and prayers to the God of Israel, we ask him to save our Jewish
sisters and brothers and all people, especially now in the USA. God save all good
people from disasters and strengthen peace in our countries. The blessings are
flowing from heart to heart. We sing all together the most important prayer of Israel:
"May the one who makes peace in the heavens, make peace for us and all the
people Israel and all people of the world and let us say: Amen"
Osse Shalom bi-Meromaw

Hu Jaasse shalom aleinu
We-al kol Israel
we-al-Kol –joshwei Teiwell
We-Imru: Amen
______________________________________________________________________________
Event note
The milestone tenth Limmud.de Learning-Festival is coming up: Specifically, 25-28 May 2017 at the DJH Resort in Neuharlingersiel.

Starting now, you can register your participation and, if you wish, a program session, for the Limmud.de Festival 2017. Our Early Bird prices are available through 15 February 2017!

You'll find all the relevant information here.
To find out more about our kids' program, see here.
With other questions and suggestions, please contact info@limmud.de, questions about registration go to anmeldung@limmud.de, and programming questions to programm@limmud.de.
PS: If you can't wait until May, check out the Limmud Day Essen, on Sunday, 12 February 2017.
____________________________________________________________________________________
The British Jewish News write about our community, read more here. (October 2016) (Correct: the donation of the protestant Heilig-Gesit-Kirche Pinneberg-Nord was not used for the Liberal Jewish Cemetery but for the social work of the LJGH.)
____________________________________________________________________________________
A token of friendship (July 2016)
Christians make donation to the LJGH Hamburg Reform community
Rabbi Moshe Navon and Provost Karl-Heinrich Melzer celebrate Shabbat together. The Hamburg-West/Südholstein parish is donating EUR 3,000 to the Hamburg Reform Jewish community for the planting of the community's new plot in Hamburg's Ohlsdorf cemetery. The community has also received EUR 1,000 from the Heilig-Geist-Gemeinde Pinneberg for its social work.
Read the whole article written by Catharina Volkert in the Evangelische Zeitung in German and English.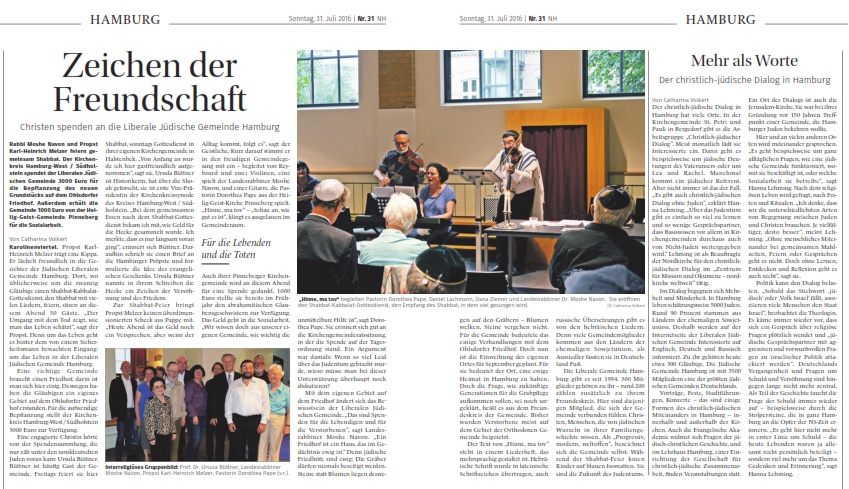 ____________________________________________________________________________________
A gift from the US to Hamburg's Liberal Jewish Community: a challah cover by Ina Golub (March 2016)
The Hamburg Liberal Jewish Community (LJGH e.V.) sees itself as part of the global Jewish Reform movement. We are delighted when Jewish visitors to Hamburg give us a call and ask whether it might be possible to take part in one of our services. In this way, our community frequently welcomes guests from Israel, the US, the UK and other countries. We are very proud when these guests become friends and supporters of our community because our community, its members and our history have fascinated them and moved them to seek us out. In this way, regular donations have enabled us to employ our own rabbi. Some of the friends visiting us this year include husband and wife Dan and Lynne Levine from Rockville, MD (near Washington, DC), who visited for the second time as part of an orchestra tour – Lynne Levine is a professional musician.
Dan Levine visited us for our service on 12 March 2016. His father, Rabbi Levine, would have turned 90 that day. In his memory, his son gave our community a precious gift: a beautiful, sumptuous challah cover, made by Ina Golub, a well-known American artist. The father of our friend was not only a rabbi, but also an artist, and worked closely with Ina Golub. Some of her works are displayed in the Jewish Museum in New York. Her artworks, including Torah covers, Torah ark curtains and challah covers, adorn many American synagogues.
We are delighted with this beautiful gift and feel very lucky that Dan and Lynne Levine continue to belong to the international circle of friends of our community.
We warmly welcome all Jewish guests visiting Hamburg to join us for one of our services.
Lehitraot in Hamburg!
Photo of Dan Levine: Dan Levine, Rabbi Moshe Navon, Dana Zeimer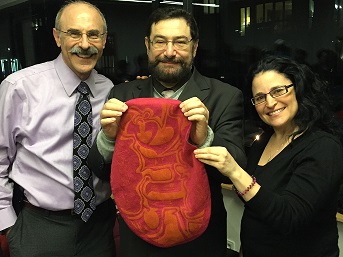 ________________________________________________________________________________________
APPEAL FOR DONATIONS (September 2015)
Charity delivers from death – צדקה תציל ממוות
Dear members and friends of the LJGH Liberal Jewish Community in Hamburg,
In February we were finally able to appoint our own Rabbi. We were able to take this important step thanks to a temporary donation to our community from a family of Shoah survivors in the US. Our honorary member Ms Frank and her daughter want to work with us to strengthen liberal Judaism at its birthplace, here in Hamburg. The managing committee and the Rabbi aim to join forces to improve the financial situation of the community to the benefit of all its members.
Dr Moshe Navon is a Russian-speaking Rabbi who trained in Israel and also wants to take an active role in providing spiritual guidance to all Jews who seek it in Hamburg and the surrounding area. He is a strong advocate of Liberal Judaism and wants to return this community to the prestige it enjoyed globally before 1938.
We have already taken the first steps towards announcing this to Hamburg's citizens via various items by local broadcasters and on the NDR TV channel: https://www.ndr.de/fernsehen/sendungen/hamburg_journal/Liberale-Gemeinde-mit-festem-Rabbiner,hamj39414.html.
The First Mayor of Hamburg has also been informed.
In order to guarantee the further financing of the rabbinical position, the LJGH needs your donations! All amounts are important and welcome, no matter how small. It would be ideal if everyone could support this essential position within our community with regular donations. A donation receipt can be issued upon request. Please forward this appeal to your friends! Together, we can do it!
For donations within the EU: For donations from outside the EU:
IBAN: DE94 2005 0550 1294 1251 98 SWIFT-BIC: DRES DE FF 200
BIC: HASPDEHHXXX IBAN: DE84 20080000 0762070600
Managing Committee